In a pursuit to combine my personal practice with my professional, how did we collectively experience and document the pandemic as youth?
White Lines Collective

---
ABHIRAMI SURESH
Graduation Project

B.Des 2016
Exhibition Design
student social︎︎︎
project website︎︎︎
---
The White Lines Collective is a social design inquiry into mental health and wellbeing narratives in higher education institutions and among young adults, and the ways to provoke conversation through creative practices. During the onset of the COVID-19 pandemic, the Collective visually documented pandemic experiences through digital media by hypothesizing 'collective experiences', the notion there is a similarity in young people's experiences during this time. Through co-creation and participatory design frameworks, avenues for them to share their experiences and create visual expressions that nurture a space for coping were created. This was explored through ethnographically-driven documentation and research projects that collected pandemic narratives. Online workshops and participatory arts experiences were designed and facilitated, bringing together young individuals to interact through verbal and visual expression. The project outcomes were curated to develop the participatory, interactive and archival digital platform, whitelines-covidcollections.


I questioned my role as the creator in the project's design and execution as the Collective drew from my experiences. Here, personal influence formed the background of the inquiry, and personal reflections served as the starting point for its development. The designer was a researcher, who documented and facilitated the inquiries and projects. The project's design was not linear. Even though a process was detailed, it was not always followed. Often, its development was intuitive, and the process flowed between steps. In doing so, alongside community engagement, the archive attempted to stay current and well-informed. However, working from home in a different country from project participants and audience was no simple task. The work required me to stay updated on changes across many digital spaces simultaneously, and creating interventions was a creatively and intellectually demanding feat. The physical and mental health consequences of over-exertion quickly became detrimental as I struggled with screen fatigue and information overload. I also struggle(d) with Imposter Syndrome and doubted my skills and abilities at every step of the project.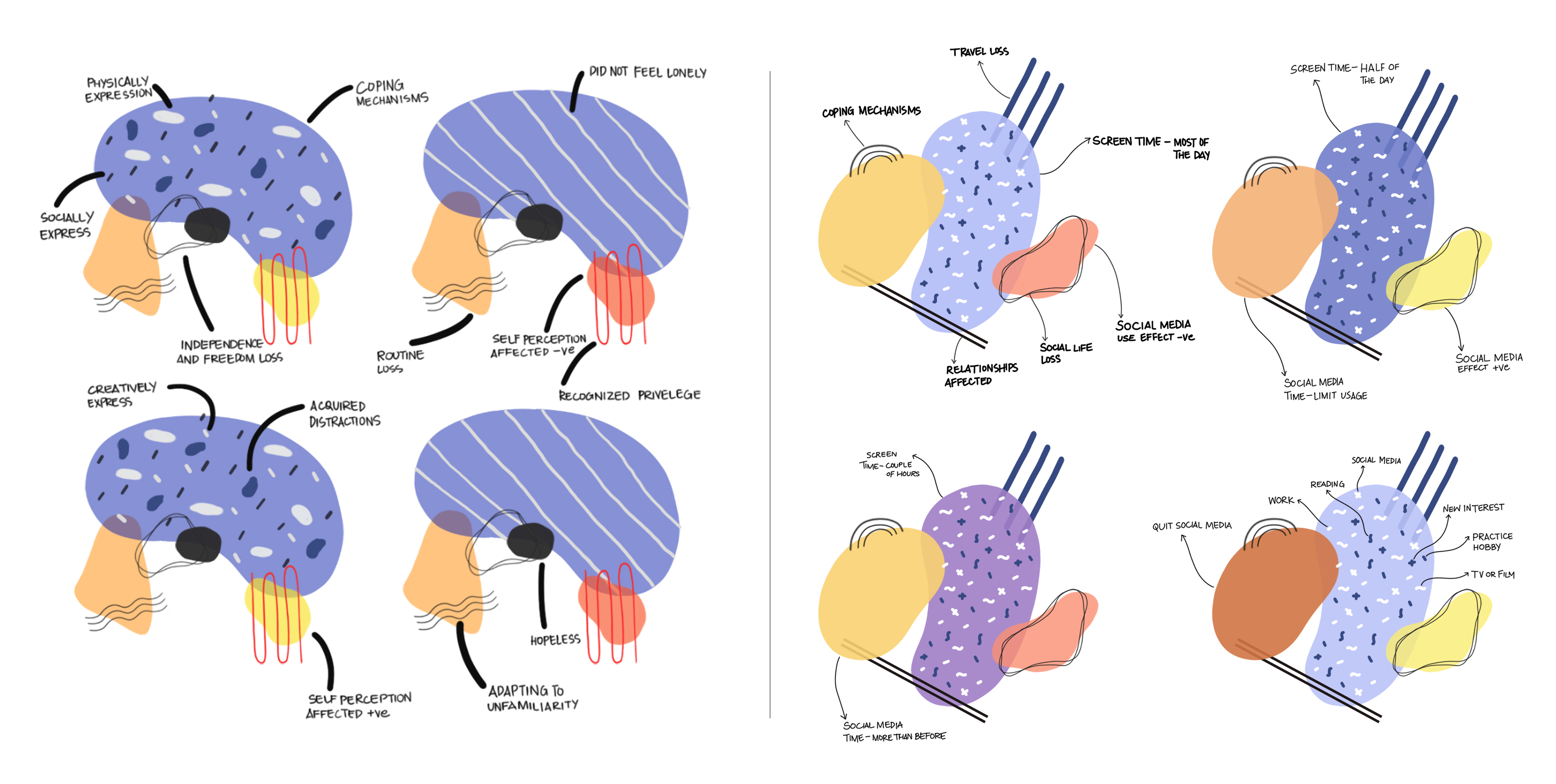 The Collective's community grew by over 200 people during this time. Through the projects and reception, the endeavors were successful in documenting nuances of the time and bringing people together to share their stories. Many contributors were 'non-artists', but created their expressions with the same authenticity and vulnerability as their 'creative' counterparts, showing that everyone is inherently creative. Interpretation, communication, and awareness formed the core of the art experiences. The narratives explored the relationship between one's well being and the influence of external factors, and in their own ways, revealed what it means to be human. It is in sharing these narratives as they are that young people can relate to and empathize with one another.
Working on the Collective was a year-long masterclass in creativity, empathy and introspection. The Collective's work challenged me to push the boundaries I had imagined for this project. Through the project's participatory nature, I was fortunate to have met, interacted, and worked with many wonderful people. Our interactions were a grounding experience that was vital to my mission. This project has encouraged me to further probe the relationship between creative expression, design as a system for expression, and the self. As someone who values 'social intimacy' and 'the community' and has a curiosity for storytelling, the combination of these interests has opened avenues for exploring the Collective as an arts research project. The design principles I have learned will be instrumental to how I continue the Collective's work to create other participatory avenues, spaces and archives, and publishing projects.
---
INSPIRATIONS
The young community that engaged with the project
Nina Simon's work with participatory museums
Georgia Lupi and data visualization
Raghavan KK
Breaking Modern Loneliness Webinar

Books

'Nearness: Art & Education After COVID 19' by Marlies De Munck & Pascal Gielen
'Note to Self' by Connor Franta