How might we facilitate creatively constructive conversations?
Improp

---
PURAV BHARADWAJ
Classroom Project

M.Des 2019
New Media Design
student website︎︎︎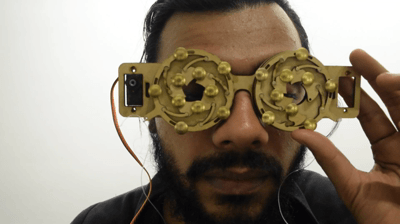 ---
Improp is a system of objects that leverages improv and role-play to facilitate creatively constructed conversations. A set of four objects - ear, nose, glasses, and lollipop; helps facilitate original and improvisational conversations by nudging participants or drawing their attention to prompt their behavior. These interactions are multi-sensory and can extend into multiple contexts.


The project recognized how there is a lack of imagination in people, especially as they progress into adulthood. Conversations largely devolve to trite, colloquial and often derivative instantiations. However, our conversations fundamentally shape our thoughts and ideas as they manifest in reality. Can we design for conversations that are more engaging, fun and radical? How might we facilitate creatively constructive conversations?


I found that people often self-censor their opinions to avoid judgement from peers. As time progresses, people assume, prescribe or conceive knowledge that when aligned with, severely limits their ability to embrace new opinions. Often, there is a lack of inspiration that can provoke creative, radical and imaginative conversations as individuals feel a compulsive need to rationalize. People find creative (and colloquial) refuge in expressing themselves through role-play, where judgment is transferred to the character they have assumed, allowing individuals to communicate/articulate freely.


Given more time, I would have liked to iterate on the system to inform the concept better. It would also be interesting to revisit the topic through the lens of somaesthetics to better understand, scrutinize and integrate empirical and practical inferences through bodily perceptions. Having completed this project, I have a deeper appreciation for the fluidity and complexity of the design process and its dialectic nature. This project opened me up to the possibility of using interactivity in my design practice as a tool to look back at our reality, and augment it.
---
INSPIRATIONS
Research
An empirical study of cognition and theatrical improvisation by Brian Magerko, Waleed Manzoul, Mark Riedi, Allan Baumer, Daniel Fuller, Kurt Luther, and Celia Pearce (2009)
All I really need to know (about creative thinking) I learned (by studying how children learn) in kindergarten by Mitchel Resnick (2007)
A functional model of jazz improvisation by Donya Quick and Kelland Thomas (2019)
Websites
Journals
Improvisation in the Mathematics Classroom by Andrea Young
How Mathematics Teaching Can Be Like Improv Theater by Mike George
TV Shows
"Whose Line is it Anyway?" and other improv shows
Interviews
Practitioners in Improv Theatre, Theatre for the Oppressed & Developmental Theatre for Children.