What is the politics of ornament, and how does one make it visible?
Embroidered Memories- Narrating Partition Stories through Phulkari
---
Rashi Sharma
Graduation Project

B.Des 2016
Textile Design
student
portfolio︎︎︎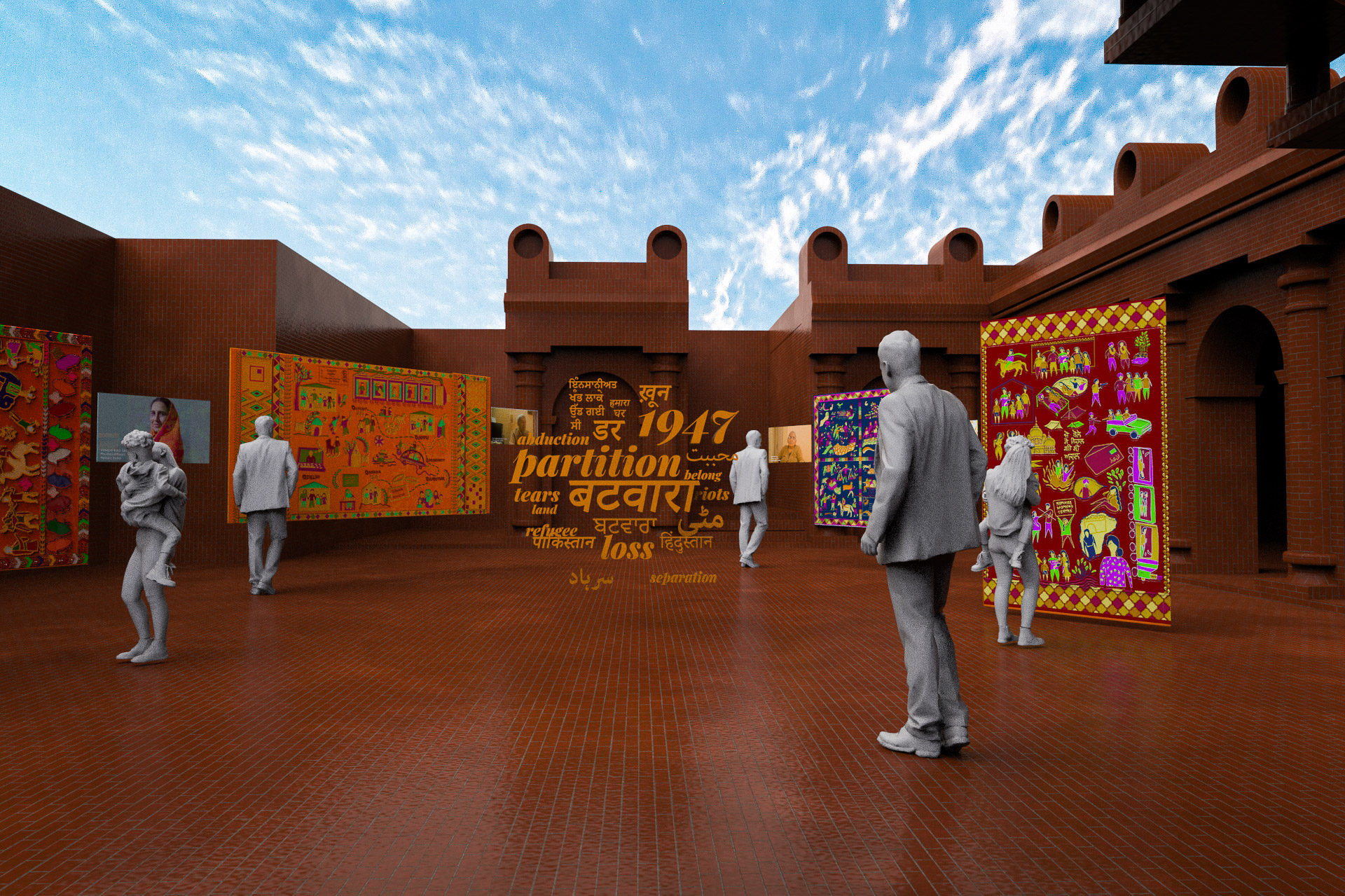 ---
Even though the Partition into India and Pakistan took place over 70 years ago, the tremors of it are felt by the third generation of the families that experienced it. My quest to know more about my family's history and my identity intrigued me to connect other people to their histories and portray common cultural assets between India and Pakistan. Like people's stories, textiles have their own stories to be narrated. In this project, the Sainchi Phulkari textile became the medium to express the stories of the Partition and their interpretations, as traditionally, it was Phulkari that narrated the everyday lives of rural Punjab. Participants from the design workshops co-created artworks to narrate these stories, which were then hand-embroidered by the Phulkari artisans from Patiala, Punjab. This project intended to make people realise, through an exhibition, the need for tangible preservation of the shared historical and cultural assets.

Working on a heavy topic, interviewing people about their histories and losses did have an impact on me as I was involved in the research and felt similar emotions. Observing the migrants' struggles in April 2020 during the first lockdown, I drew a comparison chart of experiences of migrants in 1947 vs the present. Through the collaborative nature of this project, it was possible to connect people who share a historical background.



Being dependent on technology to conduct interviews and virtual design workshops, and find and work remotely with Phulkari artisans was a new experience. Working with Phulkari artisans and receiving a form of Phulkari that is no longer done was an opportunity to learn, and share the knowledge of this craft with others. Making emotional connections through a screen became a reality. The physical exhibition that I had envisioned became a virtual one, where I explored Augmented Reality. A walkthrough of this exhibition was created, which can now reach a wider audience. However, the essence of these panels are not felt by the viewers, only the concept is.
As a designer, I learnt to adapt to new situations and not get too attached to my work. As this project was a means to learn about myself, I learned of other ways of staying connected to personal histories. As a person, I became more empathetic. Rational reasoning and emotions are two paths that I have learned to balance. Not being in control of all things and letting a project and purpose grow organically was a journey to reflect on. Along with learning many things about others and their lives, I had the opportunity to introspect and learn about my capabilities.
---
INSPIRATIONS
Primary research from interviews of migrants, stories of families and material histories.
Fiction and Non-fiction books on Partition.
Movies in English, Hindi and Punjabi about Partition.
Secondary research on crafts of Punjab.
Visits to museums and historical places of Punjab.
Conversations with people who have researched this topic.